Opening & Closing Ceremony Timetable
Opening Ceremony: Oct 4 (Wed), 2023
Closing Ceremony: Oct 13 (Fri), 2023
| Time | Event |
| --- | --- |
| 17:00 ~ 18:00 | Audience Entrance |
| 18:00 ~ 19:00 | Red Carpet Event |
| 19:00 ~ 20:00 | Main event |
| 20:00 ~ 22:00 | Screening of Opening & Closing Film |
※ The end time may change depending on the running time of the Opening & Closing Films.
Opening & Closing Ceremony Information
Food and beverages are not allowed except non-alcoholic drink in a non-breakable glass bottle with a cap.
Taking picture or any kind of filming is strictly prohibited during the screening.
Please enter before the start of the main event for smooth viewing of the ceremony.
Please follow the instruction from our staff or volunteers inside the opening and closing ceremony venue
Parking on Opening & Closing Ceremony day
There will be no parking space available in Busan Cinema Center during the opening and closing ceremonies, and vehicle entry is restricted around the Busan Cinema Center. There will be traffic congestion near Centum City as well as the Cinema Center on the day of the opening and closing ceremonies. It is highly recommended for the audiences who come for the ceremonies to use public transportation. If you bring your car, please use nearby paid parking facilities such as BEXCO or the department stores. We kindly ask you for your understanding.
Opening & Closing Ceremony Seat Guidance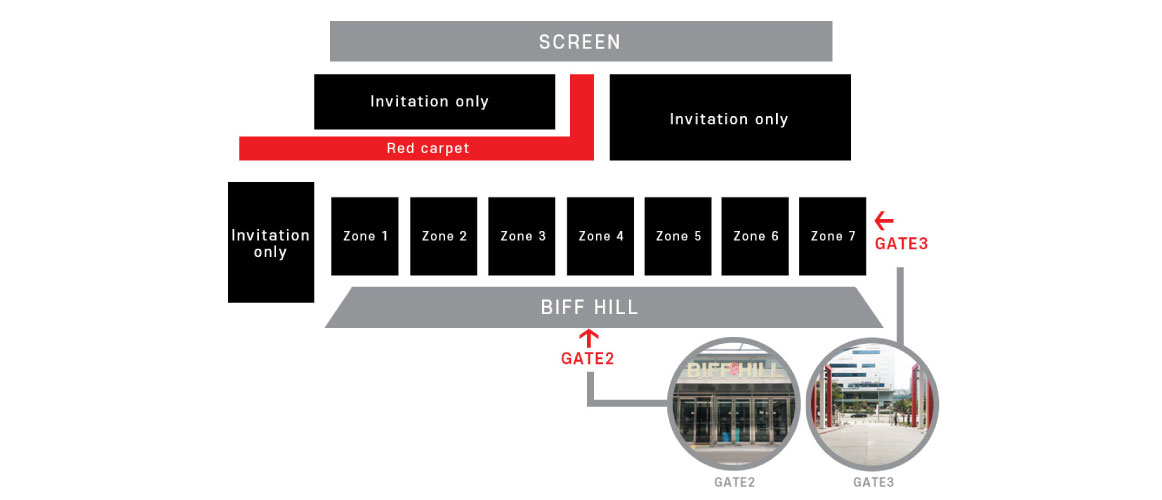 ※ When purchasing tickets, please note that 'Zone 8' consists of a demountable bleacher seating.